General information(開催概要)
Chair
Dr. Fumiaki SUZUKI
Gifu JD Symposium Organization Committee
(Vice President, Executive Director for International Affairs and Public Relations, Executive Director of Gifu University Organization for Promotion of Glocalization (GU-GLOCAL))
Vice Chairs
- Professor Koichi MORITA, Vice Director of GU-GLOCAL, Center for Japanese Language and Culture
- Professor Hiroyuki KOYAMA, Advisor to the President, Faculty of Applied Biological Sciences
- Specially Appointed Professor Shinichi MIWA, GU-GLOCAL
- Professor Yoshihiko UEMATSU, Faculty of Engineering
- Professor Shoichi KUTSUMIZU, Faculty of Engineering
- Professor Yoshihito UENO, Faculty of Applied Biological Sciences
- Professor Takahisa NISHIZU, Faculty of Applied Biological Sciences
Gifu JD Symposium Organization Committee Members
Professor Tomio YABE (Faculty of Applied Biological Sciences)
Professor Satoshi NAGAOKA (Faculty of Applied Biological Sciences)
Professor Tomoyuki NAKAGAWA (Faculty of Applied Biological Sciences)
Associate Professor Masaya SHIMADA (Faculty of Applied Biological Sciences)
Professor Hideharu ISHIDA (Faculty of Applied Biological Sciences)
Professor Akio EBIHARA (Faculty of Applied Biological Sciences)
Professor Hitoshi IWAHASHI (Faculty of Applied Biological Sciences)
Professor Tohru SUZUKI (Faculty of Applied Biological Sciences)
Professor Tohru MITSUNAGA (Faculty of Applied Biological Sciences)
Associate Professor Emiko YANASE (Faculty of Applied Biological Sciences)
Professor Yoshiharu YAMAMOTO (Faculty of Applied Biological Sciences)
Associate Professor Masafumi SHIMIZU (Faculty of Applied Biological Sciences)
Associate Professor Yuriko KOBAYASHI (Faculty of Applied Biological Sciences)
Professor Kohei NAKANO (United Graduate School of Agricultural Science)
Professor Tetsuji KUME (Faculty of Engineering)
Professor Yoshinori ITAYA (Faculty of Engineering)
Professor Satoshi ITO (Faculty of Engineering)
Professor Takashi ITO (Faculty of Engineering)
Professor Daohong WANG (Faculty of Engineering)
Professor Shinji KANBARA (Faculty of Engineering)
Professor Masaharu KOMIYAMA (Faculty of Engineering)
Professor Minoru SASAKI (Faculty of Engineering)
Professor Shuhei TAKAHASHI (Faculty of Engineering)
Associate Professor Nobusuke KOBAYASHI (Faculty of Engineering)
Associate Professor Yasuhiro TAKAHASHI (Faculty of Engineering)
Professor Kaori ANDO (Faculty of Engineering)
Professor Shigeyuki UEMIYA (Faculty of Engineering)
Professor Masahiro EBIHARA (Faculty of Engineering)
Professor Yutaka OOYA (Faculty of Engineering)
Professor Mamoru KOKETSU (Faculty of Engineering)
Professor Mutsuhiro SHIMA (Faculty of Engineering)
Professor Akiyoshi TAKENO (Faculty of Engineering)
Professor Takayuki BAN (Faculty of Engineering)
Professor Toshiaki MURAI (Faculty of Engineering)
Associate Professor Natsuhisa OKA (Faculty of Engineering)
Associate Professor Kunihito KATO (Faculty of Engineering)
Associate Professor Takahiro NITTA (Faculty of Engineering)
Professor Lim Lee Wah (Faculty of Engineering)
Gifu Joint Degree Symposium 2019 Summary & Objectives
It is a great honor and privilege for me to extend my cordial welcome to all of the distinguished guests coming far and wide from Japan and abroad to join the celebration of "Gifu Joint Degree Symposium 2019" grand opening today.
Gifu University launched four distinctive international joint degree (JD) programs in April 2019 thanks to the strong partnership forged among our overseas partner universities, the Indian Institute of Technology, Guwahati (IITG, India), and Universiti Kebangsaan Malaysia (UKM, Malaysia).
The academic spheres of the JD programs cover Food Science and Technology (M.Tec, PhD; IITG), Integrated Mechanical Engineering (PhD; IITG) and Materials Science and Engineering (PhD; UKM). A total of sixteen students with excellent academic records from Japan, India and Malaysia will be enrolled in their respective programs. The solid partnership among the three institutions will provide students an invaluable opportunity to become both future glocal and global leaders in the academic and business fields. The graduates of the programs are also expected to lead the international community in successfully achieving the Sustainable Development Goals (SDGs: 17 global goals set by the United Nations General Assembly in 2015 for the year 2030) in the near future.
For successful implementation of our newly launched international JD programs with a particular emphasis on cultivation of glocal mind, we strongly believe that collaborations in industries and societies in respective countries are of paramount importance.
It is also our hope that the robust and enduring partnership among three institutions will help us create a critical platform to continue strengthening our cooperation in the years to come.
I sincerely wish that those who are in attendance at this memorable occasion today can explore and advance our shared vision of international collaborations through the dynamic and progressive platform of JD programs.
Lastly, I would like to take this opportunity to express my deepest appreciation to the representatives of the Ministry of Education, Culture, Sports, Science and Technology (MEXT), the members of the Gifu JD Symposium Organization Committee, university and laboratory staffs and students for their great contributions to bring the opening of "Gifu Joint Degree Symposium 2019" into a successful eventuality.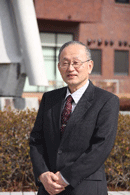 Fumiaki SUZUKI
Chair
Gifu JD Symposium Organization Committee
実行委員長
鈴木 文昭(理事(国際・広報担当)・副学長/グローカル推進機構長)
実行副委員長
森田晃一(グローカル推進機構副機構長/グローカル推進機構日本語・日本文化教育センター長)
小山博之(学長補佐/応用生物科学部教授)
三輪真一(グローカル推進機構特任教授)
植松美彦(工学部教授)
沓水祥一(工学部教授)
上野義仁(応用生物科学部教授)
西津貴久(応用生物科学部教授)
実行委員
矢部富雄(応用生物科学部教授)
長岡利(応用生物科学部教授)
中川智行(応用生物科学部教授)
西津貴久(応用生物科学部教授)
島田昌也(応用生物科学部准教授)
石田秀治(応用生物科学部教授)
海老原章郞(応用生物科学部教授)
岩橋均(応用生物科学部教授)
上野義仁(応用生物科学部教授)
鈴木徹(応用生物科学部教授)
光永徹(応用生物科学部教授)
柳瀬笑子(応用生物科学部准教授)
小山博之(応用生物科学部教授)
山本義治(応用生物科学部教授)
清水将文(応用生物科学部准教授)
小林佑理子(応用生物科学部准教授)
中野浩平(連合農学研究科教授)
久米徹二(工学部教授)
板谷義紀(工学部教授)
伊藤聡(工学部教授)
伊藤貴司(工学部教授)
植松美彦(工学部教授)
王道洪(工学部教授)
神原信志(工学部教授)
小宮山正治(工学部教授)
佐々木実(工学部教授)
髙橋周平(工学部教授)
小林信介(工学部准教授)
髙橋康宏(工学部准教授)
安藤香織(工学部教授)
上宮成之(工学部教授)
海老原昌弘(工学部教授)
大矢豊(工学部教授)
沓水祥一(工学部教授)
纐纈守(工学部教授)
嶋睦宏(工学部教授)
武野明義(工学部教授)
伴隆幸(工学部教授)
村井利昭(工学部教授)
岡夏央(工学部准教授)
加藤邦人(工学部准教授)
新田高洋(工学部准教授)
リムリーワ(工学部教授)
本シンポジウムの目的と概要
この度は「岐阜ジョイント・ディグリー・シンポジウム2019」の開会式にあたり、国内外から広くお集り頂き心より感謝申し上げます。
岐阜大学におきましては、本年4月よりインド工科大学グワハティ校(IITG)およびマレーシア国民大学(UKM)との連携により、国際ジョイント・ディグリー(JD)プログラムを立ち上げました。
本JDプログラムでは、「食品科学技術(修士・博士課程:IITG)」、「統合機械工学(博士課程:IITG)」および「材料科学工学(博士課程:UKM)」において日本、インドおよびマレーシアから16名の優秀な学生が学びます。三大学による連携は、学生に研究および産業分野における「グローカル・グローバルリーダー」となるべく貴重な機会を提供することでしょう。また本プログラムの卒業生は「持続可能な開発目標(SDGs:2015年国連総会において定められた2030年までの17の達成目標)」を達成するため、世界をリードすることが期待されています。
特にグローカル・マインドの養成を念頭に創設されたJD プログラムですが、その実施に当たり三カ国の産業および社会の協力が不可欠と考えます。
三大学の強固なパートナーシップにより、我々の協力の枠組み作りが今後更に推し進められていくことを祈念しております。
本日ご臨席を賜りました皆様方と、JDプログラムの新たな枠組みを通し、国際協力構想を模索・共有できればと願っております。
最後になりましたが、文部科学省の関係者をはじめJDシンポジウム組織委員会委員、大学関係者および学生の皆様方による「岐阜ジョイント・ディグリー・シンポジウム2019」への多大なるご支援・ご協力に対しここに改めて感謝申し上げます。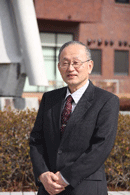 Fumiaki SUZUKI
Chair
Gifu JD Symposium Organization Committee